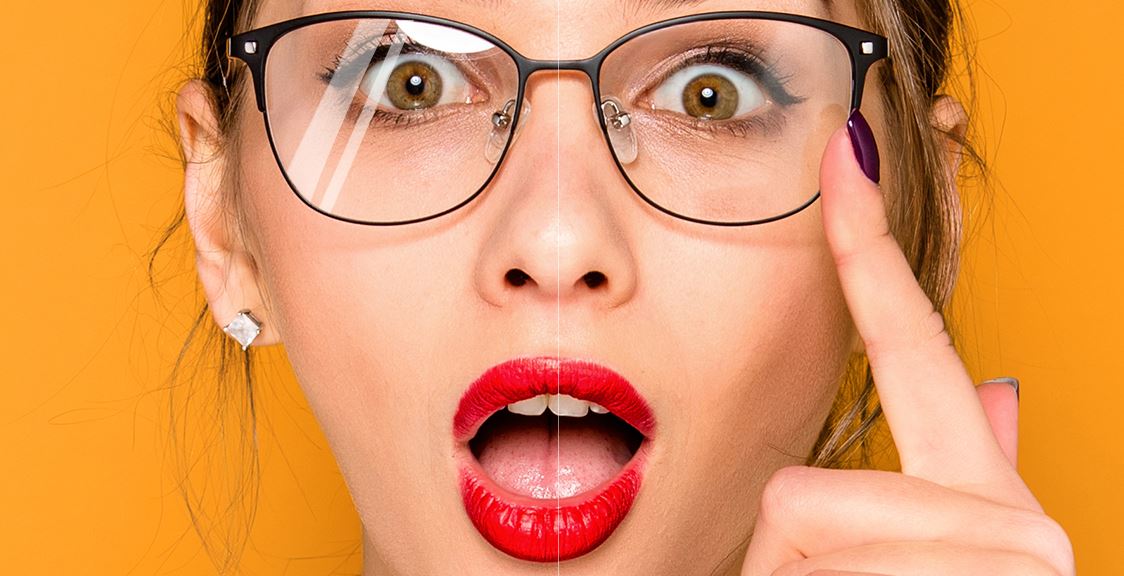 Pros and Cons of Anti-reflect Coating Glasses
People are more concerned in the selection of frame when choosing for prescription safety glasses. Lens material should consider and many people are finding the advantage of AR-coating. AR-coating is the special coating that is designed by decreasing the amount of reflected light on the lenses. The coating is applied either back or both sides of lenses, so that positive light could enter into your eyes for a clear view. Here are a few pros and cons of AR-coating on eyeglasses with some consideration.

  Shop Pentax F9800 Now | Prescription Safety Glasses   
Benefits of AR-coating Eyewear:
AR-coating has several advantages.
One of the main benefits of AR-coating is cosmetic perks. As you use AR-coating over your lenses, you will look great because people cannot see the reflection in your RX safety glasses. By increasing eyes visibility, it enhances your eye contact with others and would not be hindered by irritating reflections. This is very helpful for those people who are mostly connected with public dealing and limelight for looking more photogenic.
AR-coating offers you clear and sharper vision more natural and brilliant than uncoated lenses.
They offer durability and keep last longer than regular lenses. The coating exceptionally resists to scratching and do the best job by resisting dirt and water.
Besides this, the AR coating helps to reduce eye fatigue while at work particularly for those people who have to spend long hours in front of a computer screen. Long working hours in front of digital devices can cause eye strain. But with the help of AR-coating, your eyes will be safer against glare and eye strain.
The coating is very helpful in the releasing of eye fatigue and anti-glare coating help in eliminating the light while watching TV.
AR-coating helps enhance night vision.
Disadvantages of AR-coating:
Besides all benefits, AR-coating has few drawbacks.
They can provide a dirty look because of lenses clarity. Yet AR-coating, in reality, is not so dirtier than a regular pair of eyewear. The AR-coated glasses become noticeable because there is no glare to hide dirt. 
As a result, you have to clean your lenses more frequently than regular eyeglasses. You can order designer glasses online for your prescription with AR-coating. 
Generally, they are not recommended for reading glasses because they rest on the lower bridge of the nose in case of progressive lenses. If you are using a maximum amount of light by using digital devices.

 Shop Armourx 6008 | Rx Safety Glasses
Consideration plus warning:
All type of coating that is applied on both sides of lenses are more peeled, scratched, or wear off. That's why for young children, it is a good idea to postpone them unless they have certain needs in which AR-coating could be beneficial.
Don't try to clean your lenses when they are dry, always rinse off your lenses before cleaning them.
Avoid using any destructive particles into over AR-coated lenses.
Always use a microfiber cloth instead of tie or shirt's sleeves that can damage your lenses.
If you don't clean your AR-coated lenses, at extreme temperatures like near fire or ice.
Always store your safety glasses in the protective hard case if you are not using them.
Yet AR-coating remains last longer than standard glasses, therefore you need to buy them from a reputable company. They will provide a full guarantee and a warranty of the AR-coated lenses.
Keep safe and much care of your eyeglasses because it is the matter of your eyes, not money.