The B-26 MHS® Multi-Hazard-Shield® utilizes pliable FDA approved Medical Grade Polymers that provide expanded coverage, protection and comfort for extended wear in the Medical, Personal and Industrial Hazard Environments. Fits small to medium safety glasses frames with a lens height (B measurement) of 30mm - 40mm)
• Made from high-impact polycarbonate
• Comprehensive side and brow protection

SafeMate® Mounting is Simple. Hold right sideshield firmly in your left hand with the frame "C" channel of sideshield facing you.
➊ From inside shield, slide right temple paddle tip through the front flex opening of the shield (see fig.1). Then guide the paddle tip along the side channel and through rear locking tab.
➋ Now slide the sideshield completely to the front of the temple and into position around the front of your frame (see fig.2). Repeat for left SafeMate shield.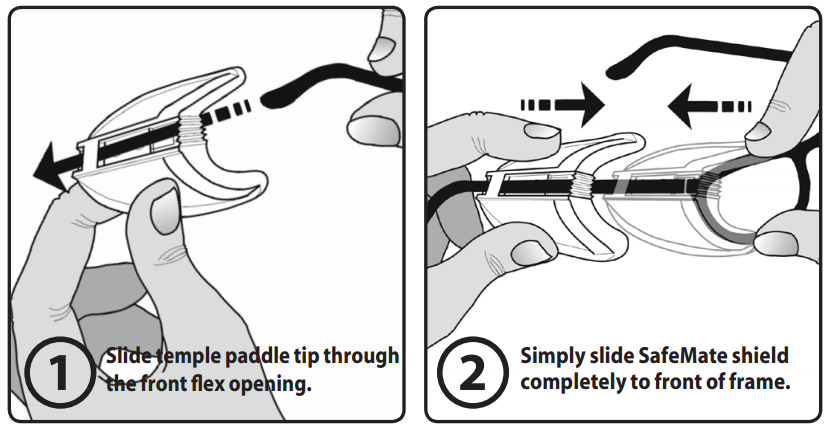 Tested by a leading independent testing laboratory on a variety of metal and plastic safety prescription frames from leading safety frame manufacturers.
Proven to withstand the impact of a .250 inch steel ball fired at 150 feet per second at each of the ANSI prescribed impact locations without failure.
Designed to provide lateral side covergage as defined by ANSI Z87.1-2010