Oncoming lights in cars, particularly for drivers can be significant hazards if they have vision disorders or cataracts. Before swapping prescription sunglasses as a driving glasses for any cause, you should consult an eye care professional for essential requirements. If an eye care specialist agrees to driving glasses to combat high beams and dazzling lights, you need to explore the quality product in the eyewear market. 
Eyeglasses for outdoor, many people consider sunglasses for viewing incredible hikes or beach views. But you don't need sunglasses for merely a fascinating view because you need quality protection for safe driving. However, yellow-tinted lenses are the best choice for improving contrast and eliminating glare. Check out the below guideline for acquiring the best information regarding driving glasses.
Things need to consider while Buying Driving Glasses
What eyeglasses can help you safe driving while protecting your entire eyes area? Let's find out incredible facts regarding eyewear lenses and frames.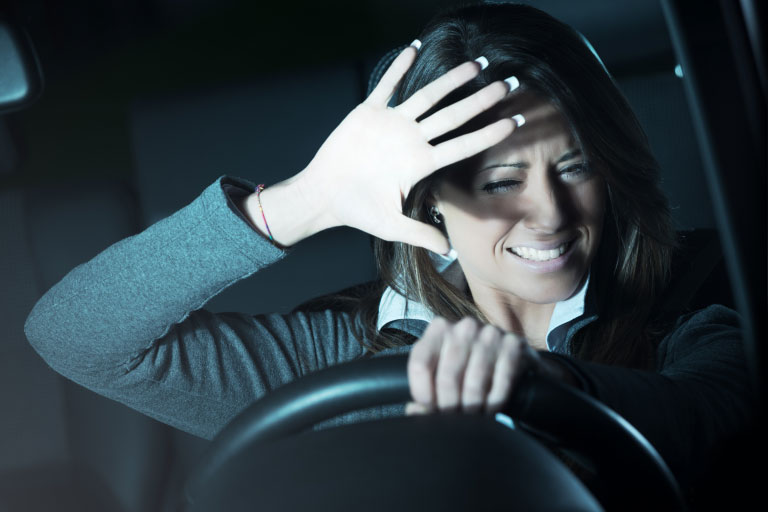 What considers for Driving Eyeglasses Frame?
Consider the below essential factors for the America's Best Eyewear frame for your eyes.
         Fit: Comfortable fit is undoubtedly the first thing you should consider while buying driving glasses. Many users spend their maximum time driving in different outdoor spots. Therefore, it is vital to choose shades that don't put pressure on skin contacts. It leads to a severe headache for several hours of driving. One suggestion while choosing a frame is a slight hook or straight temple tips.
         Grip: Another consideration that can prove beneficial while choosing driving glasses is an adjustable grip on temple tips and nose pads. Well, this feature is not compulsory for driving eyewear. But if you want to wear eyeglasses for more than driving purposes, be careful about these features.
         Coverage: Another significant consideration for driving glasses is a wide frame with large lenses. You can consider a wraparound design for best coverage because sun rays can enter from the side of the eyes while driving that block side view. A wraparound frame design with taller lenses is extensive coverage from all sides.
         Material: The final feature of driving glasses is quality material in frame making. However, the material is a personal preference, but you should consider an acetate frame for a comfy and durable fit. Acetate is well known for its best patterns, textures, and array of hues.
Another best considerable material for frame construction is nylon. It is flexible and lightweight, a good option if you want to wear eyeglasses for several hours. Besides, nylon maintains its originality under extreme conditions.
The final material for frame making is metal. However, the metal frame doesn't offer a wraparound style, but it has slim temples and is lightweight for a comfy fit.
What to consider for driving glasses lenses?
Consider the following lenses to Buy Prescription Eyeglasses Online.
         Polarized lenses: Polarized lenses are the finest choice for driving eyewear. While driving a car, sunlight can lead to hazardous reflections like reflected headlights, wet surfaces, and stop signs. This dangerous glare can block your vision and make it hard to determine the road. Polarized lenses keep eyes relaxed and comfortable while driving under all lights. But some new cars contain digital dashboards in which polarized prescription lenses don't allow you to see over it. If you are interested in buying polarized lenses, make sure you are shopping them for driving a car before heading out.
         Material: There are two significant choices for driving eyeglasses, polycarbonate or glass. Glass lenses undoubtedly offer a crisp view and are scratch resistant. But they have drawbacks like no impact resistance and being heavier than polycarbonate. The advantages of polycarbonate lenses are more than glass lenses because of their impact resistance and lightweight. But they can easily scratch-resistance and don't offer a clear view than glass lenses.
         Transition lenses: Photochromic or transition lenses are hot eyewear products in the eyewear industry because of many good causes. These lenses automatically dark and clear shades according to light intensity. Unluckily, transition lenses are not good enough for a driving vehicle. The car windshield blocks sunlight and UV experience because of lenses.
         Gradient lenses: Gradient lenses are also an acceptable choice because they start dark at the top and are gradually lighter at the bottom. These lenses are the most fashionable and provide the best value while driving vehicles. While driving, you look outside from the darker shade of the lenses, and clear lenses are good enough for viewing the digital dashboard.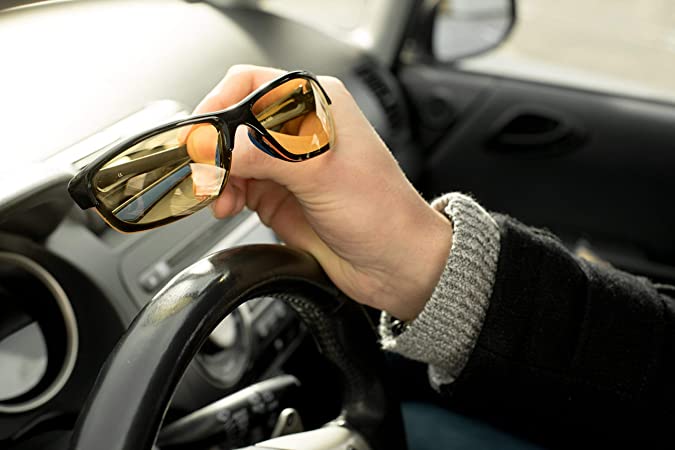 What should consider lens color while buying driving glasses?
Picking the optimal lens color for driving eyeglasses is vital, particularly when you drive in the daylight. Basically, there are four lens tints that you should consider as per your style preferences.
         Brown/amber tint is the best option to increase contrast and offer an optimal perception. Besides, use amber lenses in both rain and sunshine.
         Grey tint is the best choice for your eyes if your eyes get tired quickly because this tint eliminates eye strain. Besides, it reduces water glare and makes it a practical option for driving.
         Rose tint is an all-rounder because it increases the contrast in all situations with increasing depth perception. Besides, you can use it on sunny or cloudy days.
         The yellow tint is particularly suggested for driving causes because it improves contrast with high definition. Besides, you can wear them for night driving under streetlights.
How to use Vision Insurance for Driving Sunglasses?
How can apply for vision insurance depending on which plan has been selected for sunglasses? If you have an in-network store, you can use your vision insurance to buy glasses directly to your order during pay. But for an online store, first, you claim a file for compensation. It is a convenient way to fill out a line form with a few simple steps.
You have to write personal details like phone number, email id, contact number, name, and other relevant information while buying driving glasses through vision insurance. Ask for an extra cost if included in the add-ons for lenses. If the insurance provider agrees with your claim, they will send you a covered amount.
Driving glasses online at Eyeweb.Com
Need quality driving glasses? All simple. When you buy from b, there are all guidelines and tooltips all over the creation process to customize the ideal pair of eyewear. You will get all answers with complete satisfaction. If you need customer support, feel free to contact us to choose the best driving glasses. Get a better guarantee, try your eyeglasses for 41 days and get a complete refund or exchange a better pair of driving eyewear.