Safety Glasses For Women And Their Characteristics
The eyes are the most sensitive part of the human body. Hence, taking care of it is important because if you lose vision, then there are numerous complications that can arise. Numerous recent studies, it has shown us that women have a higher percentage of getting their eyesight weak than compared to men. Therefore, the month of April is declared Women's Eye Health and Safety Month. All of the efforts are made by Eyeweb to ensure that women are protecting their eyes the best by wearing their safety glasses for women.
There are numerous different types of diseases that are prone to women when it comes to eyesight. One of the most common ones is age-related macular degeneration where 65% of the victims are women. Not only that, but thyroid eye disease is also getting more common amongst women than men. Therefore, to avoid all of these dangerous diseases, you will need to protect your eyes from the start. This is why it is recommended to ensure that you cover your eyes with prescription safety glasses for women. This will give you all the blockage from harmful rays and the protection you need.
Getting the Right Set of Glasses
You cannot just simply go to the store and buy yourself a pair of glasses without knowing what it offers. This will not give you any good protection because those glasses might not have the right lenses to block out the rays. Therefore, it is always best if you look into the different types of glasses and what they offer before you purchase them. This way, you will have more knowledge about them and you will also be able to secure your eyes the best. Moreover, you need to know about the different elements that make up safety eyeglasses for women. In every glass, you fill find a frame, lens, hinges, sidearms, and temples.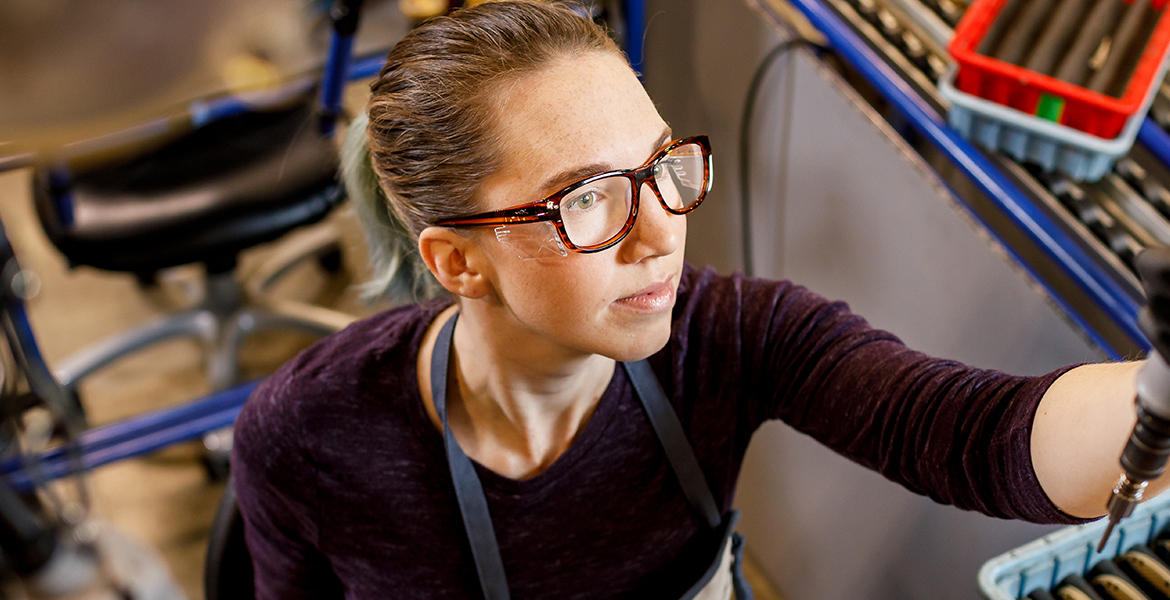 All of these elements can be customized in different ways to ensure that the user is getting the best protection. You need to look carefully at the frame so that you know if it is durable or not. You are going to be wearing these glasses for a longer period of time so you need to get strong ones. Another main element that people fail to look at is the hinges. Hinges are what allow the glasses to open up and close properly without any difficulty. Therefore, when you go shopping for glasses, ensure that the hinges are working perfectly fine so that you have no problem with them in the future.
Why you Should Start Wearing Women's Safety Glasses from a Young Age
It is always better to start protecting yourself at a younger age than older age. That is because things tend to grow gradually and then they become a big element. It is true that early diagnosis as well as getting the right treatment can avoid any other severity of your eye disease but you should refrain from that as well. It is not only costly to get an eye procedure done but, it also takes a lot of healing time. Therefore, it is crucial that women start wearing glasses so that they can take care of their eye health and avoid any such diseases.
If you want to protect your eyes from the start then you should not just grab a normal pair of glasses. Instead, you should look for protective lenses and see if you can wear them for a longer period of time. This will ensure that you have the right pair of glasses for a lifetime. You won't have to worry about purchasing numerous glasses over and over again when they break. If you keep purchasing delicate glasses that break then this will cost you as well. Therefore, it is best to buy one pair of glasses that will last you a long time.
The Importance of Prescription Safety Glasses for Women
Prescribed safety glasses from Eyeweb are here to protect your eyes no matter where you are. If you are working in a field that is filled with sand and dust then these glasses will help you out. They will also protect your eyes even when you are playing any sports game like basketball or volleyball. There are numerous people who work with wood and they have to be extra protective of their surroundings. They also work with saws and different tools that can easily harm their eyes. However, they have a different set of glasses. When it comes to women, they always tend to work around the house and clean it in different spots. That is where safety glasses women come in.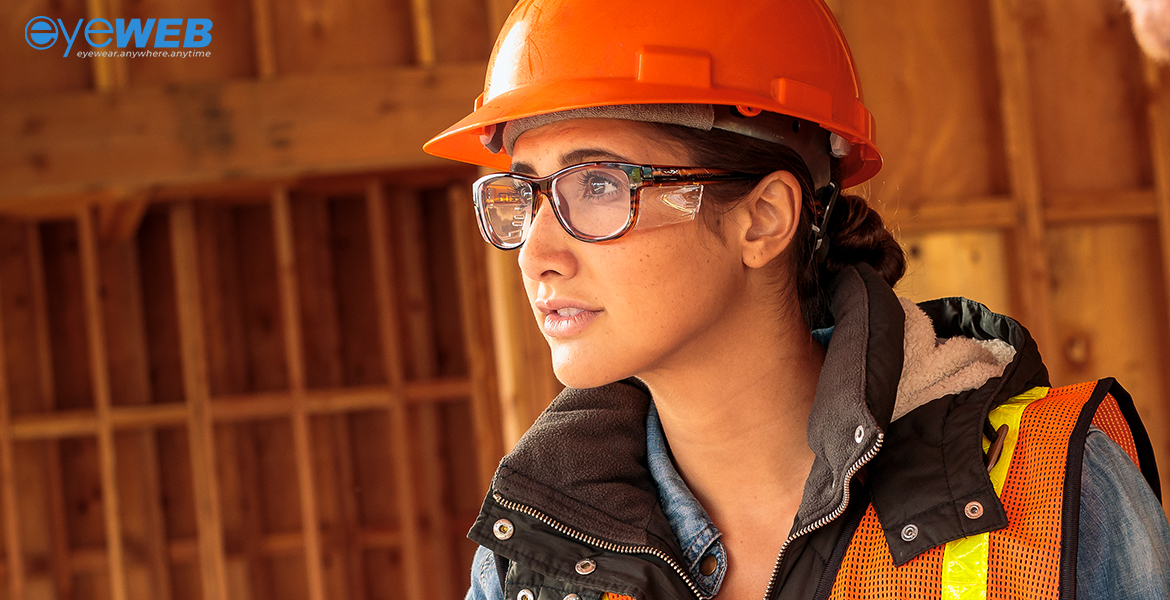 There are endless benefits of prescribed glasses but it offers 2 main advantages. The first is that they protect your eyes like no other and the second is that they have the best clarity. It is obvious that someone who wants to wear glasses will do so for clear vision so that they can work properly. Hence, prescribed glasses from Eyeweb are best for those. However, you can always come across different types of prescribed glasses that will have different lenses as well as materials. Hence, there will be some lenses that will not give you the best clarity and some materials will be too thick to have comfortable wear.
The Difference in the Material in Prescribed Glasses vs Normal Glasses
Numerous people will not know about the different types of materials that prescribed glasses give. These are special glasses and they are different from the normal ones that you see. Hence, to give them that extra edge, the material used is different. The best material to use for these glasses is polycarbonate. That is because these are much lighter than the normal ones. However, an argument tends to rise up as people say that if it is lightweight then it is not durable nor strong. This concept is wrong. Polycarbonate is lightweight durable and they are thin. Hence, having this material is a good choice because it can give you a clear vision while being comfortable.
When it comes down to the frame, they need to go through a lot so that they are the best fit for all different kinds of activities. They must be strong enough so that they do not break when they fall when you are doing any activity. So, to ensure that you have the right frame which is durable, you need to pick out the ANSI certification frame. This certification will give you all the elements that you need. If a frame meets the requirements of ANSI for protection then that glass is good to go. There are numerous tests that ANSI does to ensure that the frame is durable. One of them is dropping a steel ball on it to ensure it does not break. Hence, if the nature of the frame is able to surpass the ANSI safety requirements then you need to pick those.
Knock out the False Recognized Glasses
In this functioning world, every business wants to ensure that they are earning profit. Hence, they come up with different ventures. This is something that can cause a lot of confusion amongst customers. Some might say that the brand is authentic whereas some might not. Therefore, this is the same case with ANSI certification as well. You will find some glasses that will not have the right characteristics and they will not look right either but will have the ANSI-certified logo on them. Therefore, you need to ensure that you stay out of this mess. That is because a ton of different businesses are doing this. The only place where you can get the best set of ANSI-certified safety glasses is from Eyeweb.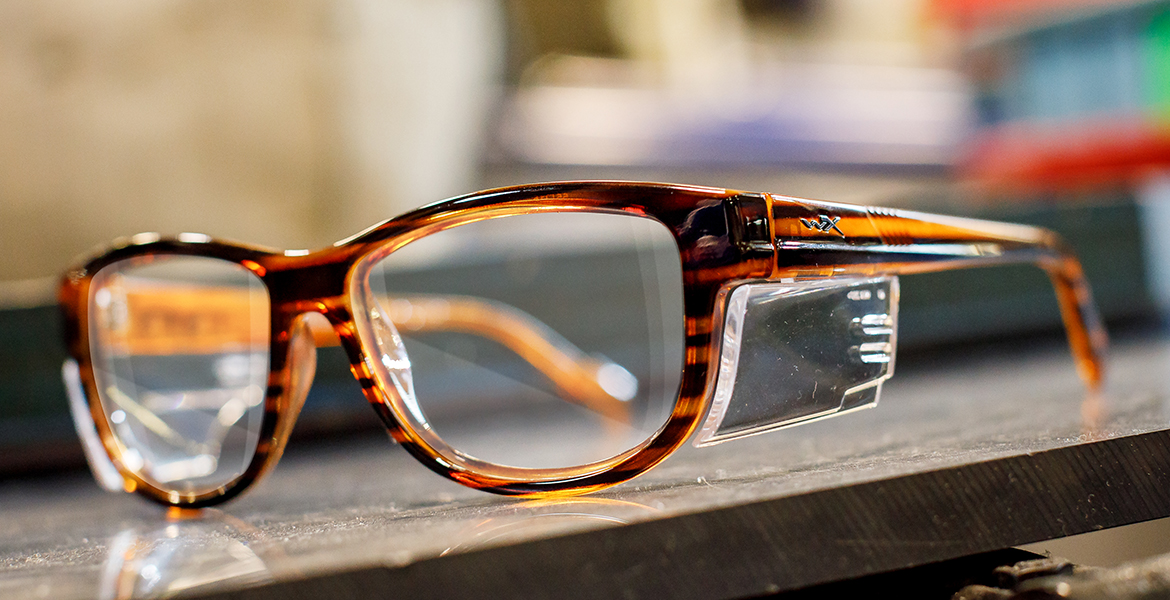 They offer numerous glasses that you can find on the website of Eyeweb and all of them are ANSI certified. Hence, if you are looking for an authentic place to get these glasses then Eyeweb is where you need to look around. Moreover, glasses that get ANSI approved do not need to look like a certain type. You can get them in numerous different shapes, colors as well as designs. The only thing that will be similar is that they will be stronger than normal glasses and they will stay with you for a lifetime. Hence, these are all the benefits that you can gain from having prescribed glasses. These ensure that your vision is clear and also durable.
Ensure that the Glasses have Polarized Lenses
Polarized lenses are essential for those women who spend most of their day outside. However, there are different types of polarized glasses and all of them differ in their characteristics. Therefore, you should ensure that the type of lenses you are getting is perfectly made for you. Moreover, these lenses also have different colors. They will surely suit you in different aspects of an activity. Therefore, when you are going to be buying glasses, you need to look into the color as well. Hence, if you are more of a swimmer then you should opt for blue. This is best for bright and full-sun situations when you are in clear water.
Moreover, a green mirror is mainly copper-based which helps enhance vision for fishing. Therefore, if you want to go out fishing someday then this color will give you the best protection. The most common type of lens color is gray or silver. This one is the best for everyday activities. Hence, women who are constantly working in the house can use these to ensure that nothing harms their eyes. Moreover, these also reduce glare as well which will enhance your vision. Lastly, there is also a copper-silver mirror which is best suited for environments that have bright light. They are best for everyday activities, they are the most versatile out of all the rest and best for when you can cloudy days well.
Ventilation Management in Glasses
It is obvious that when you are going to be wearing glasses for a longer period of time, you will want to have a good measure of sweat control. Therefore, it is important that you get those glasses that will give you the right source of air ventilation for you to feel comfortable. Hence, you need to ensure that the glasses that you pick out have room for air. Most of the glasses on Eyeweb have good airflow through the end pieces of the frame as well as sidearms.
This helps in reducing fog as well as keeping you cool. When you are doing a certain activity, it is obvious that you are going to get tired and your glasses might fog up. This will reduce your ability to see. Moreover, it does not take that long for glasses to fog up but it takes time for the fog to go away. Therefore, you should get those glasses that already have a good ventilation process so that you do not get caught up in the fog. This is something that is annoying as well.
Get Glasses that have Good Sweat Control
Other than fog, another thing that you should keep in mind is the sweat. No matter what activity you are doing, sweat is a natural thing and it happens to everyone. One of the worst things is that wearing glasses, you can sweat near the nose pad area which will make your glasses slip off. Hence, the glasses that Eyeweb possesses have channels that run through the length of the temple which enables airflow as well as sweat management. When there is airflow then it is natural that sweat will be less likely to be there.
However, to secure for the best, they have thinned out inner bottom wires that allow all the sweat as well as moisture to drain out. This makes you have comfortable wear for the entire time that you are wearing your glasses. Therefore, you should ensure all these different things when you are going to be buying glasses.
Final words
All the eye related health problems of women have a solution now. For best approach and prevention, safety eye glasses for women are a must now. Eyeweb features best range of women's safety glasses.