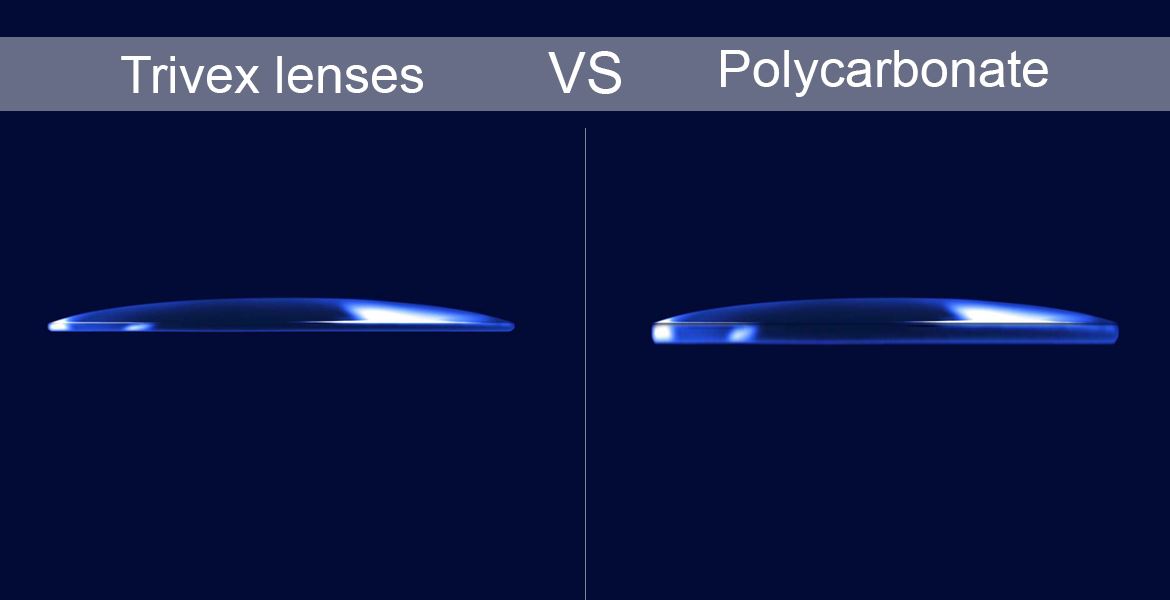 Eyeglasses Lens With Best CoatingWhen the safety of eye is concerned, both Trivex and polycarbonate are the best choices for all types of eyewear. Both lenses are lighter and thinner than others like glass and plastic. They provide 100% protection from UV light and are more impact resistance than glass and plastic lenses. The perfect blending of comfort, lightweight, impact resistance, and UV protection make them an outstanding choice for all kinds of Prescription Safety Glasses and regular eyeglasses. Both lenses provide comfortable and clear vision by the addition of AR coating. AR coating reduces glare in all low light conditions, where glare source can present.
No doubt, polycarbonate lenses have become the standard of branded safety glasses, sunglasses, and goggles. They do not fracture than other regular lenses like plastic and glass. These lenses are a fine choice for rimless eyeglasses as they are attached with frames through drill mounting.
Trivex is of the polycarbonate standard in the safety application. The use of this lens material is also suitable for children safety eyewear and sunglasses. Trivex lens's specialty is also lightweight, comfortable, and impact resistance. The cast molding process is included the same as in plastic lenses making. Usually, Pentax Safety Glasses are made by Trivex and polycarbonate lenses.

A quick comparison between Trivex and polycarbonate:
Polycarbonate lenses are thinner than Trivex because of higher index of refraction.
Trivex is lighter than polycarbonate lenses due to lower specific gravity.
Because of less internal stress, Trivex produces a clear central vision than polycarbonate.
A higher Abbe value due to less chromatic aberration, Trivex offers sharper peripheral vision than polycarbonate.
Both have the same impact-resistance. Wileyx safety glasses give more resistance than regular eyeglasses.
Both provide 100% UV protection without any special coating.
Polycarbonate has a wider assortment of lens design than Trivex but both materials are accessible for photochromic lenses.
The cost can vary for both materials but due to less availability of Trivex make it expensive than Trivex. For more details, you can visit
Manufacturing procedure:
Polycarbonate is thermoplastic in which small pellets are heated until melting. After converting into liquids, the polycarbonate is injected for giving the shape of lenses. They are compressed under high pressure and liquid is converted into the lens after cooling.
Trivex is urethane-based and is made by monomer. Manufacturing is the same as plastic lenses. Because of making through this process, Trivex gives sharp vision than polycarbonate.

Right materials for frames:
When the eye's safety comes, polycarbonate and Trivex are the grade-A solutions for this purpose. For eyes safety at your workplace, you should invest in high-quality safety frames for any types of eyeglasses. You can get online RX safety glasses with a single click from any online store. Regular eyeglasses have no comparison with safety glasses for any applications. Therefore, investing in regular eyeglasses is not only risky for eyes injuries but also the wastage of money. For best safety glasses, you can consult an optician according to your work environment. For complete care, both frames and lenses have the same play in eyes safety.
You need safety glasses for your eyes and vision safety. It's a question about your eyes safety for a lifetime good eyesight