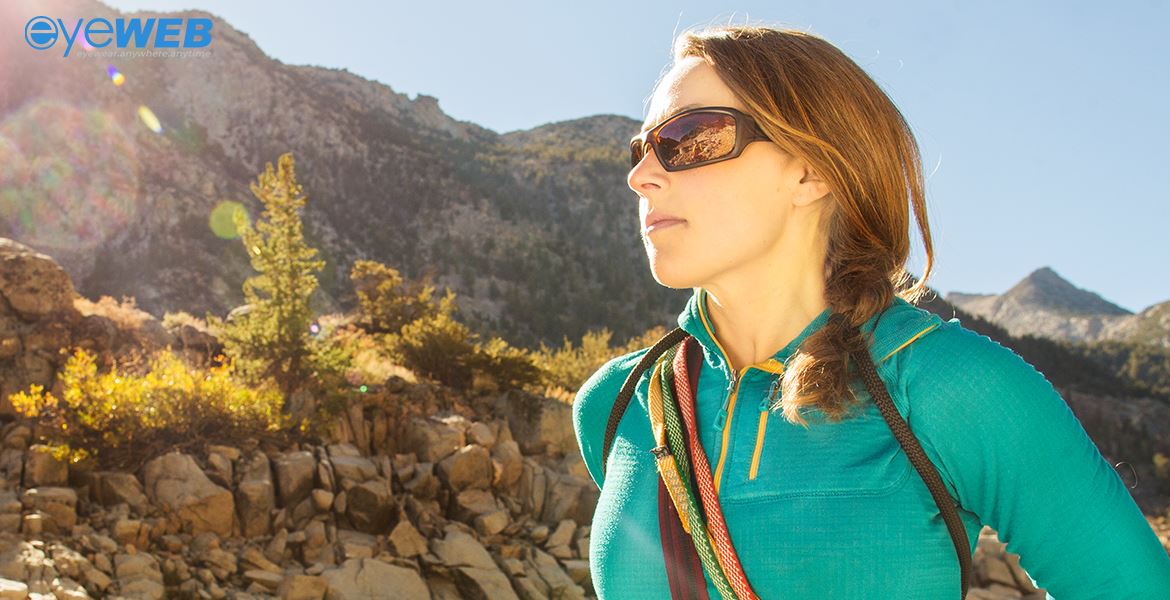 Why are you getting the risk to lose your valuable eyesight when a set of prescription safety glasses are for eyes protection. They have the power to protect your vision for a long period till the end. Think over it because they are for your advantage of good vision.
According to a study, thousands of people are getting eye injuries while at their working sites every year. Besides, there are thousands of eye injuries happening at home every year. Apart from these injuries, the same facts and figures have been reported in kids and adults while sports field. And even unluckily, many hundreds of eye injuries don't report.
Although experts claim that appropriate prescription safety glasses online can save more than 90% of all eye injuries. But still, you may require to educate yourself about protective goggles and glasses that suit your lifestyle.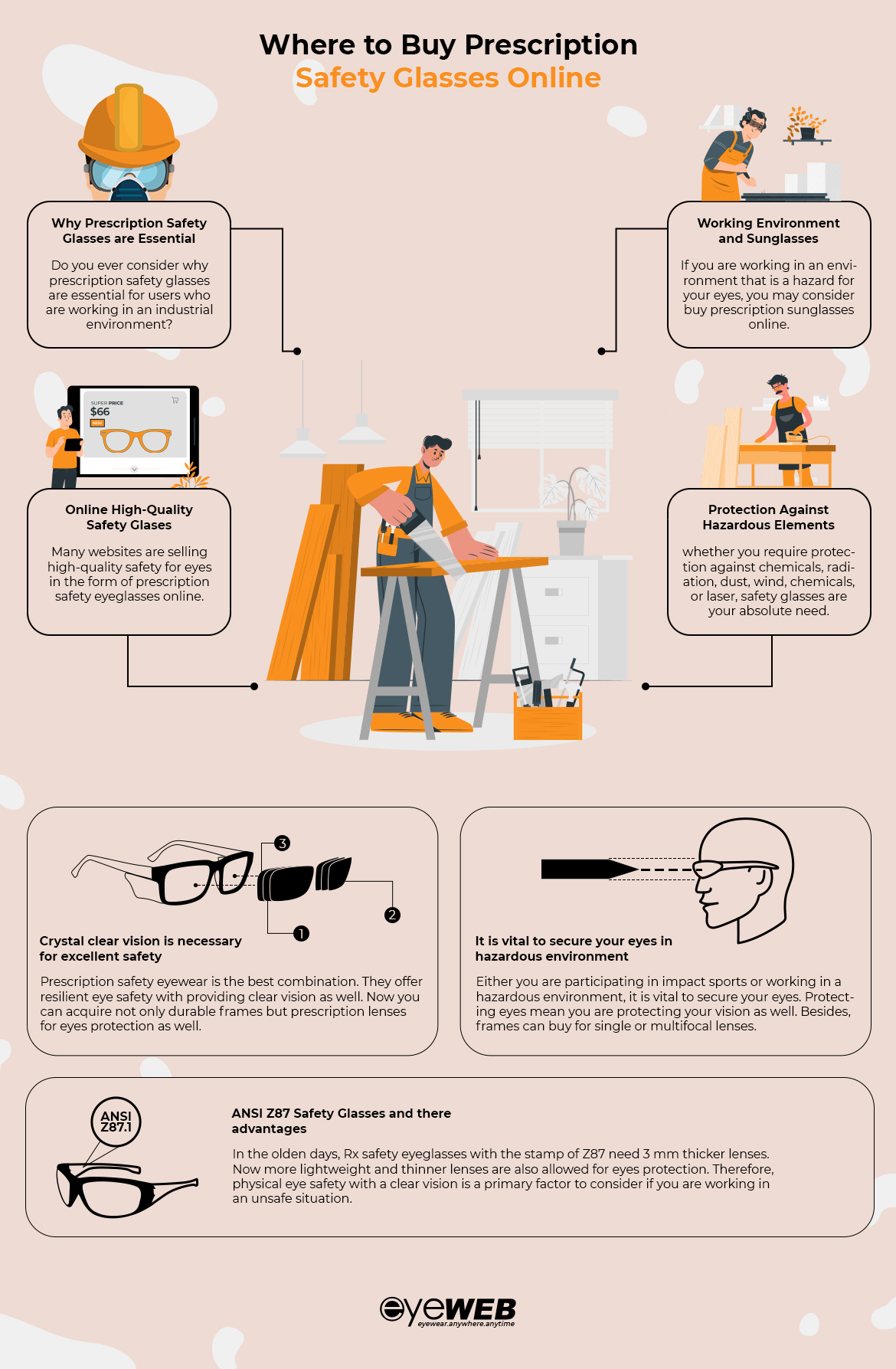 How Do Safety Glasses Differ from Traditional Eyewear?
Many people are curious why safety glasses are differing from traditional glasses. Protective glasses fit in impact resistance of high standard than regular eyewear or dress eyewear. Another noticeable thing is a high standard applied for both lenses and frames of protective specs and goggles. Well, safety specs come in two forms that are prescription and non-prescription safety eyewear. Non-prescription safety eyewear is also known as Plano protective eyewear.
Regardless of the durability and the dimension of the lenses and frames of safety specs, dress eyewear doesn't compete with them if they don't meet their particular criteria. The federal government has established some protective guidelines in the USA. So that people can decrease the rate of injuries at a job site. The OHSA with the help of the U.S. Department of protection doesn't only practice in the workplace but the educational background.
Besides, OSHA has followed the standards of womens prescription safety glasses are established by the ANSI means the American National Standard Institute. ANSI is a private and non-profit institute that produces quality and protective standards for different sorts of products.
The ANSI standard is applied for eyes protection contains several kinds of safety devices for the eyes. In this protection, both prescription and non-prescription glasses includes in this criteria. The included devices are face shields, full face respirator, welding helmets, and goggles.
ANSI Criteria for Safety Eyewear:
The latest criteria of ANSI safety specs have the following characteristics. There are two kinds of tests to check the durability of lenses frames separately or collectively as well. In a basic test, for example, only lenses are tested under particular criteria without a frame. For the endorsement of the high-impact test, both lenses and frames are tested collectively as a single unit.
The season doesn't relate to the safety glasses because if you are working in all seasons, cover your eyes with safety eyewear in four seasons. Make the best companion for your eyes because nothing is important in the world more than eyes.
In a high-impact test, non-prescription lenses are considered a little weaker because of their structure as compared to prescription lenses. Although they are constructed with the same material, prescription lenses are thicker than non-prescription lenses for vision corrective.
Keep remembering that even thicker best prescription safety glasses are applicable only if they exceed the necessary safety standard. It means they should meet the testing requirement of high impact. In the last safety glasses standard, the greatest thickness of the lenses was 3mm. Therefore, they were expressively thicker as compared to regular lenses.
Protective lenses classify into two categories like basic impact standard and high standard impact.
The drop ball test lies for the simple safety test of the lenses. In this test, a steel ball of one-inch diameter is dropped over the lenses from the 50 inches' height. A lens will pass the test in this situation if it doesn't break, chip, or crack. Therefore, all lenses of protective glasses should pass this test otherwise, they cannot include in certain safety criteria. So, all plastic safety lenses should get certification under safety criteria.
A high-impact test performs with the high-velocity exam. A steel bar of quarter-inch diameter is dropped over the lens surface with a high speed approximately of 150 feet in one second. To qualifying for that test scenario, the lens should not break, crack, or chip. Besides, it shouldn't dislocate the lens from the holder.
Assess The Safety Standard of Protective Eyewear and Goggles:
The Plus mark is the first sign which indicates that the required lens is applicable after passing the standard test. So, the "+" sign shows that the required z87 prescription safety glasses have got approval for the high-impact test.
Such kind of mark can also view on prescription lenses with the equivalent or possibly more thickness. And you can view the plus sign on the thinnest area of the lens. They are created with the same stuff from the same maker, and the same coating applies to the lenses.
Some other lenses come with the marking of V which shows that the required lenses are photochromic. Besides, the lenses mark with the S shows that the required lens has a certain tint. In some situations, some numbers are also marked towards the shaded side of the protective lens. It indicates that how much amount light is transferring from the shaded part of the safety lens. And how much it is reducing after passing from the tint.
Although shaded safety eyewear use if you are working in certain situations. For example, you are working under molten metal, cutting, soldering, brazing, and welding practices, you should use different shades densities. They are also existing in the range of 1.5-3.0 mean low to medium tint for torch welding. Besides, tint intensities from 10-14 are used for dark hue for electric welding.
Keep remembering that cheap prescription safety glasses should have permanent marking. If lenses don't meet the standard of safety criteria, there should be a warning sign over the lenses. And it should not remove from the wearers. So, this warning label should join with prescription safety glasses.
Frame Testing for Protective Eyewear and Goggles:
Safety glasses frames can examine under similar criteria as lenses. It means frames are also needed to clearance the basic and high-impact tests. But frame test is a little different because different objects are used in the test.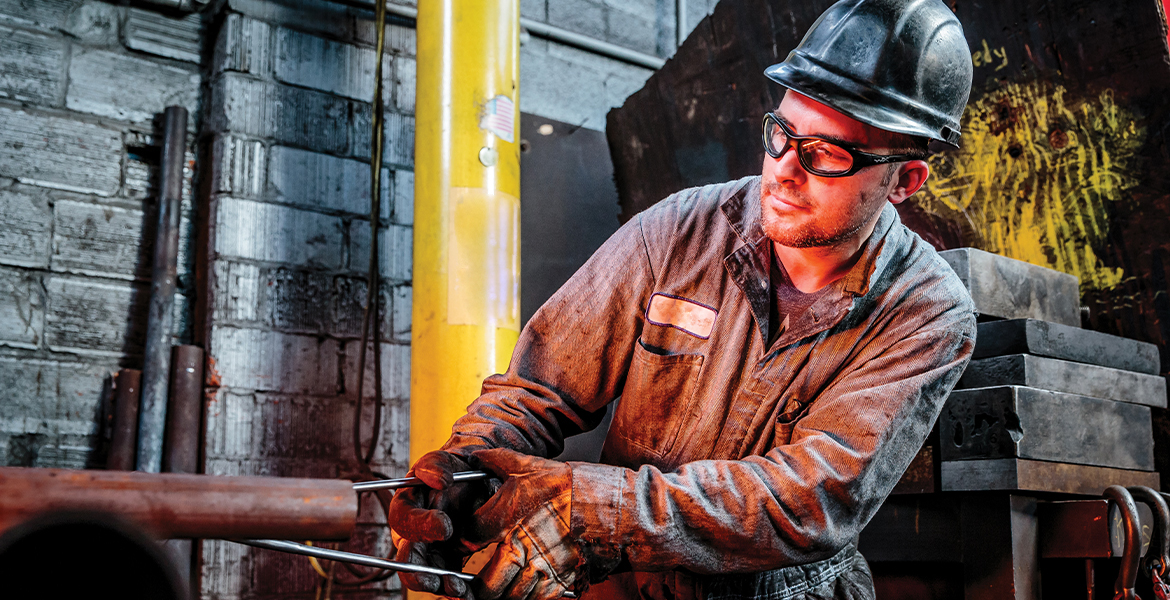 The high standard impact test includes a steel projectile of one inch with a weight of 17.6 ounces which is releasing by a tube from 50 inches' height. The steel projectile drops on the lenses that are attached to the frame. Then this kind of frame is worn over the artificial head. To clear the test, the frame should attach to the lens. And it should not scatter in pieces. Besides, the inner and external components of the frame shouldn't detach which has made the grip grasp the lenses.
To checking durability, the protective frames should pass the following test like flammability resistance, corrosion resistance test, and some other test to determine the durability.
A high-velocity test includes shooting with a steel ball of a quarter-inch over both frame and safety lenses. The steel ball comes with a certain speed of 150 feet/second from the 10-inch distance. Although the test is revised many times. And every time new lenses and frames are used with different positions and angles. However, the passing scene is the same as the high-impact test.
How to Estimate the Standard of Protective Eyeglasses Frames?
Safety prescription medical safety eyewear with non-removable lenses, there should be a permanent mark from a trademark of the creator. And it has Z87 for basic tests or Z87+ for high-impact tests. Besides, the sign of safety standard on frame temple or from one side of the frame.
For prescription safety specs, there should be a trademark of the creator with Z87-2 on frame temples. And even on the front side of the safety frame. To getting complete awareness, you may require to buy a copy of the safety standard ANSI at the website of the American National Standard Institute.
What Kind of Lenses Do You Require for The Worksite?
To avail yourself right kind of safe eyewear, you must figure out which protection level you need. Whether you require basic impact eyewear or are the candidate for high-impact eyeglasses for your work site. Below here are few professions that may require high-impact safety in the shape of glasses. 
         ⭕ Machinists
         ⭕ Carpenters
         ⭕ Pipe filters and plumbers
         ⭕ Carpenters
         ⭕ Laborers
         ⭕ Millwrights
Some professions need a good level of safety from the side of the glasses, or you can wear full-face protection or goggles. Therefore, safety officers and employers should consider OSHA to get help on which kind of prescription safety glasses with side shields they may need. Different safety eyewear is for specific job nature. For more learning, you can visit the website of OSHA in case of any confusion regarding safety.
International safety association has issued a selection guide for using face and eye safety with the standard of ANSI Z87.1. Besides, you can buy these guiding principles from the website of the organization. If you are working as an independent service provider, it would better idea to pick safety glasses with a standard of high impact. High impact glasses are almost suitable for all kinds of activities for additional safety.
Safety Goggles for Home Use:
As an independent service provider, you must pick lenses and safety frames that must exceed high impact with all safety features for good protection. If you don't use specs regularly, or you are wearing contact lenses, grab Plano protective specs. And you can avail these safety goggles from a hardware store, sporting store, and building supplier.
Polycarbonate material is solid stuff that is generally used in the manufacturing of safety goggles. The reason behind using the polycarbonate material is durability and extra comfortable. Now they are available in wraparound frame style that is more popular among almost all workers of all fields. For the highest protection, you must pick the models with a high-rated standard. Never forget to view the mark of Z87+ on the temple of the frame.
Some models in prescription safety glasses frames come with the bifocal reading section at the lower section of the lens. These lenses are the need of the people who are plus 40, and they are suffering presbyopia. If you require prescription safety goggles, you should buy them from a certified optical store or eye doctor's office. So, for good safety, go with the protective glasses that are high impact rated. Besides, the lenses have safety marks "+" and the frame has marked like Z87-2 on the temple and inner side of the frame.
If you are plus 40 and using bifocal prescription eyewear, progressive lenses with protection standards will support you for a clear view. Through these safety-rated lenses, you can look in any direction without worrying about the presence of a line of bifocal and multifocal lenses.
Even if you are mowing the lawn of your garden, your peepers are not safe because many powerful tools like a trimmer can hurt your eyes. Choose an ANSI prescription safety glasses that have removable side shields for eyes safety from large objects and flying elements.
Best Safety Eyewear for Sports Field:
For sports glasses, you need to use the same suggestion of safety-rated that you need for home appliances. An elastic band is a safety consideration feature for kids when they actively participate in the ground. These bans are fixed at the place of temples which keep your glasses tightly hold while in the sports field. For more safety, wear padded safety specs because they absorb extra sweat when your body releases while playing.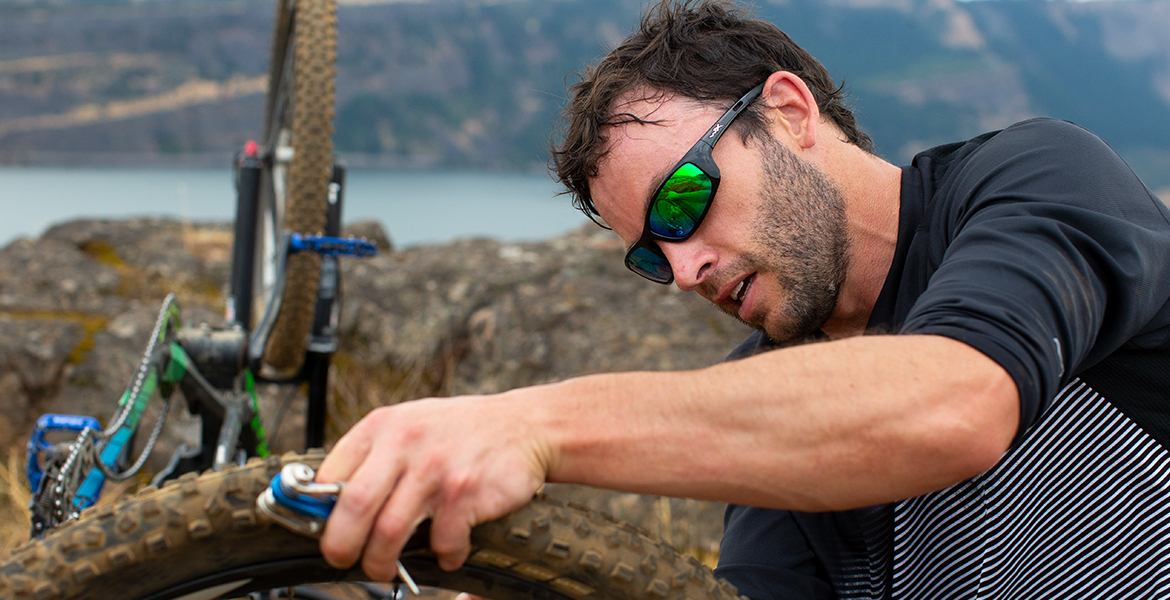 Safety glasses come in a wide range for a lot of fields. For example, you need them when you are on hunting or shooting range. Wear high-impact safety-rated lenses while doing all such types of activities. Wraparound safety frames with matt and non-glossy lenses. For the elimination of reflection, you must prefer an anti-reflect coating. It will allow you to see a clear view in the existence of a harsh glare.
Protective frames are available with camouflage shapes for hunting activity. If you require prescription shooting eyewear, make sure you are attaining side shields like additional safety. So, golfing, hunting, or any other sports that need acute vision, but don't forget to add a tint. For example, yellow or amber tint can support boosting your contrast while shooting.
The fish hook is the big lead to eye injuries in the sports field. For this objective, grab wraparound safety specs with the addition of polar lenses. Polarize have a feature to reduce harmful glare and keep eyes safe and secure on the water surface. Elimination of the glare doesn't only support you to see clearly in the depth of water, but your eyes remain comfortable in this condition. 
Photochromic lenses are another best consideration for optimal vision. Besides, these lenses change the shade of lenses as you step in and out in your location. An eye care provider and optician can recommend to you better which lens tint is best suitable for a certain activity.
In the game of paintball, don't restrict your enjoyment without wearing the appropriate head and eye safety. It can lead to devastating injuries when paintball pellets will fire from a gun. Several times, headshields are affixed with the ear and eyes' safety. Besides, these combined safeties are high impact rated. Such high-rated safety is crucial because some guns have the driving force to drop pellets at a high speed of 180 mph. However, it is enough to injure your skull and eyes.
The most crucial rule and regulation to play paintball are, avoid to remove the safety shield time while in the playing area. Otherwise, little errors can lead you a huge loss. The common lens material is polycarbonate for protective glasses. One best advantage is too lightweight which is equivalent to half of the glass weight.
Therefore, polycarbonate prescription safety glasses are extremely comfortable. Another plus point of polycarbonate stuff is the high comfortability level and impact resistance as compared to glass eyewear. Keep remembering that polycarbonate stuff is not only lightweight but too much soft as well. Therefore, it is easily prone to scratches than glass eyewear.
Objective Anti-Reflect Coating On Protective Glasses:
An anti-reflect coating has another name is AR coating to reduce irritating reflection. They are required for different activities when you are facing a reflecting surface. But you must know that anti-reflect coating can influence the impact resistance of some lenses. Therefore, never forget to test impact resistance from the ophthalmic lab after applying a reflective coating. An eye care provider can guide you clearly, which optical lab is good for the impact resistance test after having a coating.