"At the end of the day, the goals are simple: safety and security"- Jodi Rell
The standard stock of safety glasses is accessible at construction sites and metal shops. All of them are immensely supportive of numerous applications. Not only, protective specs are a superb choice for professional sites, but they have equal importance for DIY projects at home as well.
They prevent errant flying debris into delicate eyes because their entries can lead to severe irritant disease. A quality pair of protective spectacles shield eyes and keep them comfortable. Keep remembering safety eyewear is like standard glasses to wear all day while at work, and you shouldn't bother with them.
Numerous safety brands stand in the safety line of crafting the best protective glasses for different applications. After several testing, the safety specs have maintained their protective standards by an ANSI organization. Many people use protective eyewear, but they have no idea about a specific piece of protection for their workplace. Safety glasses are ideal for regular wearers because they will not distract their vision by wearing over-prescription eyewear.
For instance, you are in front of a computer screen for a few hours. Of course, the digital device will produce eye strain due to harmful blue rays that are part of daylight. They are not risky for peepers if you experience them for a few hours, but continuous staring at a digital screen for long hours creates some eyes problems. Besides, you are experimenting in the lab, and what happens if something bursts out? If you are practicing with a few industrial tools, protective glasses are an essential component like other safety gears.
The role of safety glasses is vital because they will shield your eyes against hazardous objects while practicing your essential tasks. However, they are accessories for your valuable eyes. There are no specific objects that provide better protection for the eyes. Therefore, it is imperative to pick out top-rated safety glasses on the eyewear market. Keep remembering every field has specific nature of hazards, and you require to choose as per work demand.
Accurate vision is significant because it keeps you connected with your surroundings. Protection has utmost importance because it supports keeping up the sharpness of mind. Shopping for the finest protective eyewear will enable you to keep your eyes secure in an unsafe environment. But it is only possible if you approach a quality pair of protection glasses for your peepers.
Buying the most appropriate pair of protective eyewear will avoid your vision discomfort. Besides, it shields your eyes from unwanted and unexpected injuries. Protective prescription safety glasses keep away all frustrated debris from your peepers and keep them secure in most hazardous situations.
Eye injuries have no specific time, and you keep preparing yourself for unexpected accidents at workplaces. Don't take a risk with your eyes for any sudden danger. After all, you have one set of eyes to explore this beautiful world. So, take the best care of your eyes by using super safety pair. Pick out Onguard safety pairs as per your work nature.
What are First-Class Safety Glasses?
Protective eyewear is a special kind of spectacles that support to shield eyes against potential danger. There is some special lens tint like blue or yellow that are helpful to use against harmful radiation. Besides, safety goggles are significant for labs while practicing any experiment. But for labs, there are specific sorts of lab goggles that are designed for labs. They are goggles that easily fit over prescription eyewear. Protection is not the only factor related to safety goggles, but they prevent blurry vision, dry eyes, dizziness, headache, and eye redness. 
To shield peepers against harmful environmental objects, wear ANSI-certified eyeglasses that are particularly Rx or non-Rx lenses. They are ample durable than standard lenses because they are heat resistant and don't shatter easily. The crafting of lenses with impact material doesn't allow lenses to push towards your eyes. Due to the impact resistance feature, they have the best use to prevent dust particles or another pollutant in your environment. 
For convenience, you can access safety eyewear for prescription and non-prescription lenses. Protective goggles are a form of eyeglasses that generally shield the entire eyes area and prevent them from dangerous particles.
Guide to Purchase Prescription Safety Glasses:
Protective glasses are specific safety-certified glasses that help to shield eyes from potential harm. Enjoying a comfortable view with top-rated safety is only possible through the most advanced prescription safety glasses. Picking out the high-quality pair of safety eyewear for potential hazard tasks including flying debris, you require eyeglasses with a close fit to your eyes. Safety gives you mental satisfaction and helps to boost up your performance while performing DIY projects or other occupational sites.
What to Consider for Protective Eyeglasses?
Generally, safety glasses are designed to provide safety to the users working in the impact environment. Most protective spectacles are crafted to meet the terms of many approved safety standards. Therefore, you must pick out eyeglasses close to your working requirement for impact eyes safety. 
Other related features are not necessary, but they are helpful for the life of safe eyewear. Search out a pair of protective specs that provide multiple features for an excellent experience when working for your hobby or professional work.  
Prescription lenses
Durable and comfortable frame design
Lens suitable treatment
Suitable lens coating
These features help make safety glasses functional pair that anyone can love to wear for extended hours at working sites.
Frame technology is the most determining factor for the pair of quality safety glasses. Besides, a frame is an integral part of the eyeglasses like lenses because it keeps your eyeglasses comfortable, stylish, and secure. So, look at the eyewear frames that have a snug-fitting on your face. The complete frame width and arm length are always different for every pair of spectacles. So, they should make the best pair with your facial structure because it keeps you comfortable wearing.
A safety glasses frame should be adequately durable while performing impact tasks like safety lenses. Look at the eyeglasses frames for shatter-resistant, and they can resist any damage after dropping or hitting any object.
However, prescription protective goggles have a flexible design because they are easily adjustable with any face length. Therefore, they are used as extra support in many fast-paced activities or sports.
What is the Role of ANSI?
You will come across much protective eyewear with ANSI Z87.1 certification. The ANSI stands for the American National Standards Institute, and it is a non-profit organization. It has established some safety standards to evaluate them and ensure to maintain them in the safety line with the following safety standards.
You or your employers should buy OSHA or ANSI-certified eyeglasses if you want to use them for hazardous work environments. While ANSI certification doesn't make sure safety standards for the workplace are compulsory. The voluntary work, but helpful in equating the protection and quality of eyeglasses.
Lens technology is an essential aspect of prescription safety eyewear because these glasses need the right set of prescription lenses. The lenses of safety eyewear offer vision accuracy, UV protection, impact safety, and much more other features for certain activities. Below here are a few key aspects to consider for protective lenses.
UV protection
Accurate prescription
Impact safety rating
Lens tins for outdoor tasks
Anti-fog and scratch resistance coating
Lens tints are accessible with various colors like blue, yellow, orange, and many others. Every shade has its pros and cons, but pick out the most suitable shade for your lens treatment. For example, yellow or blue tints are designed to enhance low light vision in outdoor light. Besides, black, brown, or gray are stunning colors for different outdoor. Not only, do they improve your vision contrast but to prevent eyes from risky reflected light due to sun exposure.
Scratch resistance and anti-fog coating are crucial aspects of durable safety glasses. Although side shields are also essential for safety eyewear, they support fogging. It happens particularly with goggles while working in a moist or warm environment. Therefore, anti-fog is a compulsory feature for goggles because they lessen the threat of fogging that can impact vision.
Besides, a scratch-resistant coating is also a wise investment because it secures your safety eyewear in case of dropping. Scratching affects visibility and takes care of the wear tear of lenses to run for an extended period.
What are the Common Protective Standards?
There is two necessary safety standard like ANSI and OSHA for every pair of safety glasses. OSHA maintains the safety standard is designed for the safety of hazardous workplaces. Although, these protective specs use for different tasks. Their certified safety standards ensure for industrial sites to prevent eye injuries.
ANSI is an unpaid organization for full face and eyes safety. These safety standards establish criteria for different requirements. Besides, they need impact resistance and impact resistance. The ANSI standard is implemented by OSHA, because they are compulsory compliance for the workplace. Therefore, ANSI-approved protective eyewear is allowed to wear at work sites as per OSHA requirements.
Order Prescription Safety Glasses Online Today:
Fine, you are appointed for a new job and need foolproof protection before performing your favorite hobby. Now, it's your turn to purchase Rx safety eyewear and shop them from a certified online web source. Designer glasses primarily offer great deals on impact and ANSI-approved eyeglasses. But first, view these top-rated Onguard safety glasses frames and then decide to shop one for your condition.
Top 10 Onguard Safety Glasses Frames:
Onguard OG240S:
This work of Onguard OG240S safety eyewear has a wraparound frame design in sporty style with combined side shields. These safety spectacles have advanced technology to boost peripheral vision. A detachable nose bridge offers most players a comfortable fit. Besides, flexible temples provide a snug and comfortable fit.
ANSI-approved safety eyewear is accessible for UV protection. So, whether you are busy in some impact sports or riding motorbike riding, they are engineered safety-rated glasses that will shield your eyes. Availability of frame ventilation will upsurge airflow. Therefore, these safety spectacles will reduce fogging and keep lenses cool on the hottest days.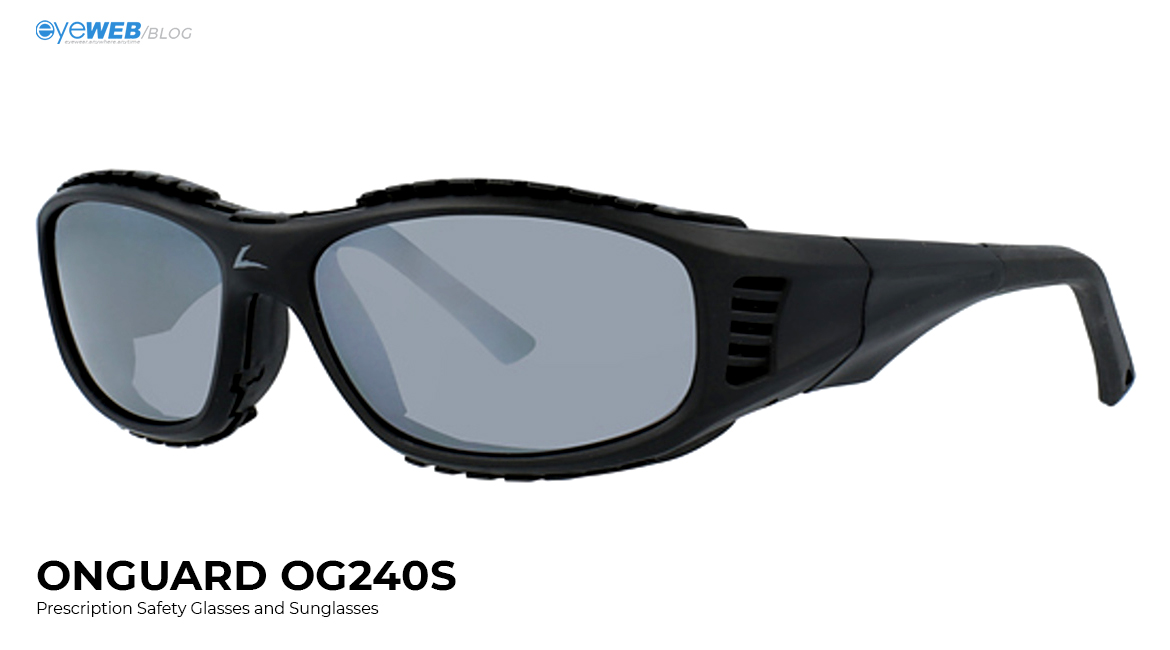 Shop Onguard-og240s Safety Glasses
OnGuard 220S:
These full-rim safety glasses provide a comfortable view even you can plan to wear for a full day. OnGuard 220S eyeglasses have wraparound frames with assimilated side shields to stop dust, fast projectiles, debris, and fine particles that can injure eyes. These protective eyeglasses are ANSI certified, and it means they are ample durable to stand against impact hazards without shattering them. Because acetate plastic gives the guarantee of shatter safety.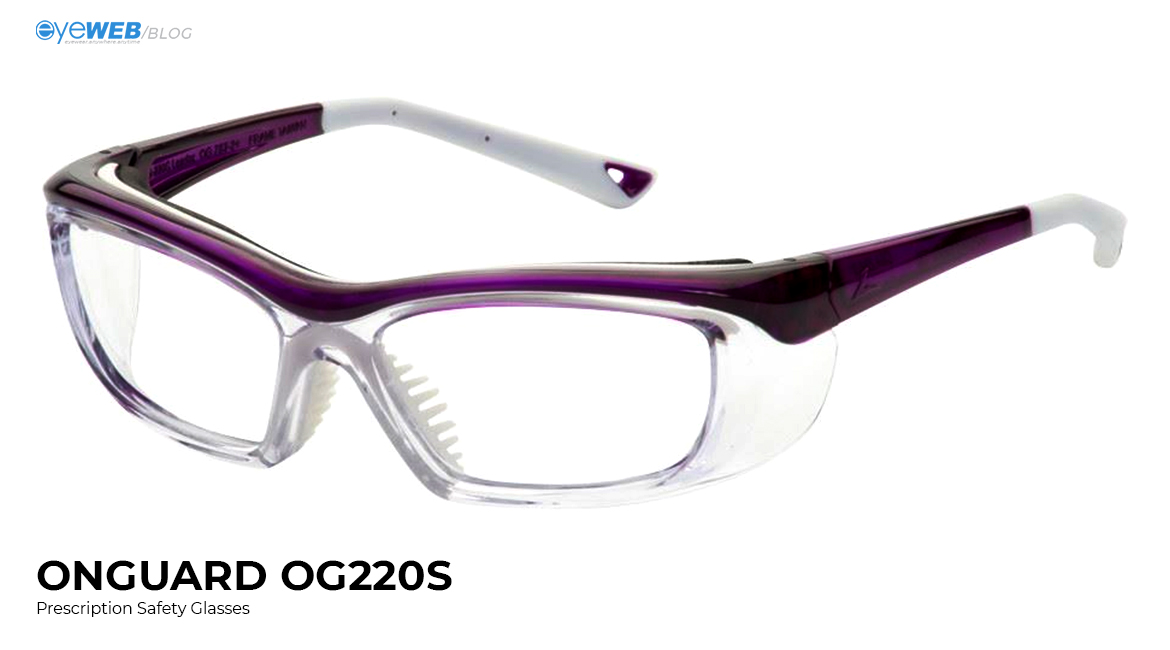 Shop OnGuard 220S Safety Glasses
ONGUARD 099:
Wishing to run safety glasses for an extensive period, Onguard 099 is a great option. Besides, add scratch resistance coating because it will decrease your future cost. This rectangle stylish frame is most suggestable for men or women because they are designed for prescription lenses. These prescription safety glasses are full-rim that gives maximum durability and stability.
Manufacturing by acetate plastic gives an adjustable grip to all adult faces. Besides, these safety frames have a popular feature of flexible nose pieces that increase comfort and provide absolute visual accuracy. The adult designing frame offers supreme comfort due to spring hinges and soft temples giving snug-fitting behind ears.
To spend maximum time in front of a digital screen, apply blue filter coating to prevent digital eye strain. Besides, an extended feature of lenses relies on your visual requirement and working environment. Onguard safety frames are suggestable for bifocal or progressive lenses.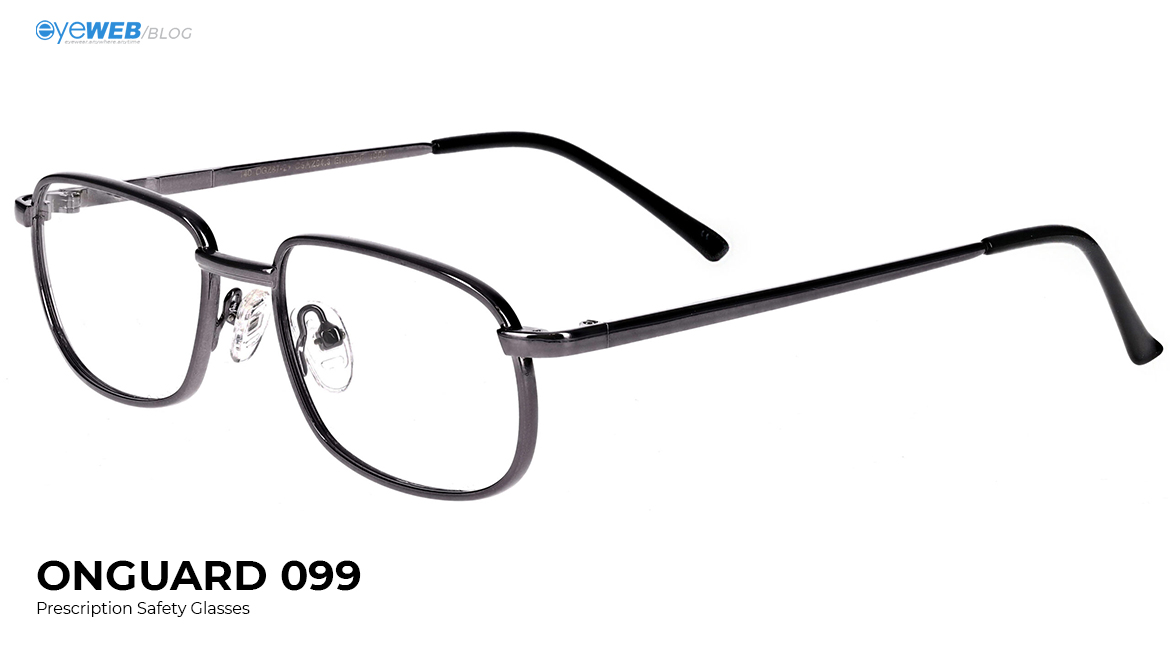 Shop ONGUARD 099 Safety Glasses
Onguard OG-220:
Order now transparent and non-conductive Onguard OG-220 Rx safety eyewear frames online. These safety frames are first-class options for medical, industries, dental, and nursing fields. Besides, these glasses have a removable black dust guard that adjusts above your eyebrows. The detachable guard is approved for medium impact, and the safety frame is most suited for mining and construction sites.
Surprisingly, a safety frame is available for prescript, non-prescription, singles, and multifocal lenses. The users get a clear view if used for corrective lenses, and it means the safety frame is manufactured with transparent material. This is happy news for safety frames to offer a broad view area. Besides, the Onguard frame fits as wraparound sunglasses, and it is comfortable for a long day wearing. Onguard OG-220S has a clear eyewear frame, so the vision is unmatched.
The Onguard safety frame is crafted for the medical field due to good peripheral coverage with impact protection. But it doesn't mean you cannot purchase them if you are related to another profession. For impact eyes protection, Onguard safety goggles are an excellent option.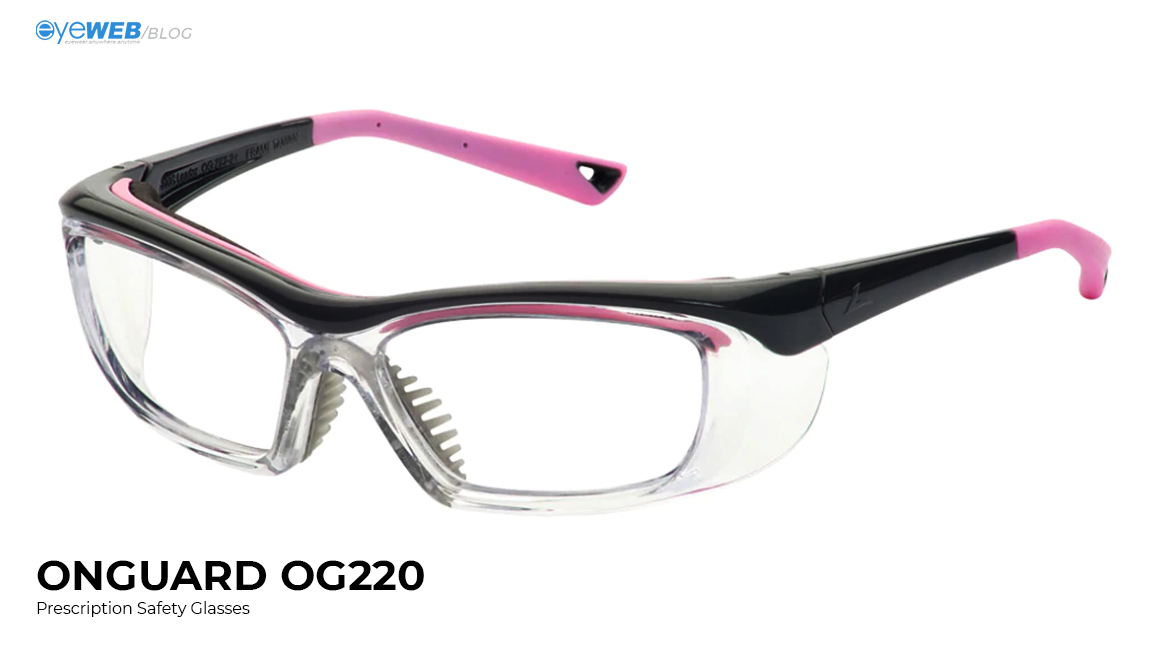 Shop Onguard OG-220 Safety Glasses
ONGUARD 125:
The Onguard 125 safety stainless steel frame is best suitable for prescription lenses. Besides, the prescription safety pair is available with a detachable side shield. Therefore, they increase comfort and safety levels for different segments. High-quality stainless steel is used in safety glasses that withstand impact hazards. The most durable and lightweight features make them a favorite of many workers. The soft rubber temples and spring hinged ensure a snug fit at your working site. So, these safety spectacles meet impact ANSI Z87.1 protective criteria that are the surety of supreme protection.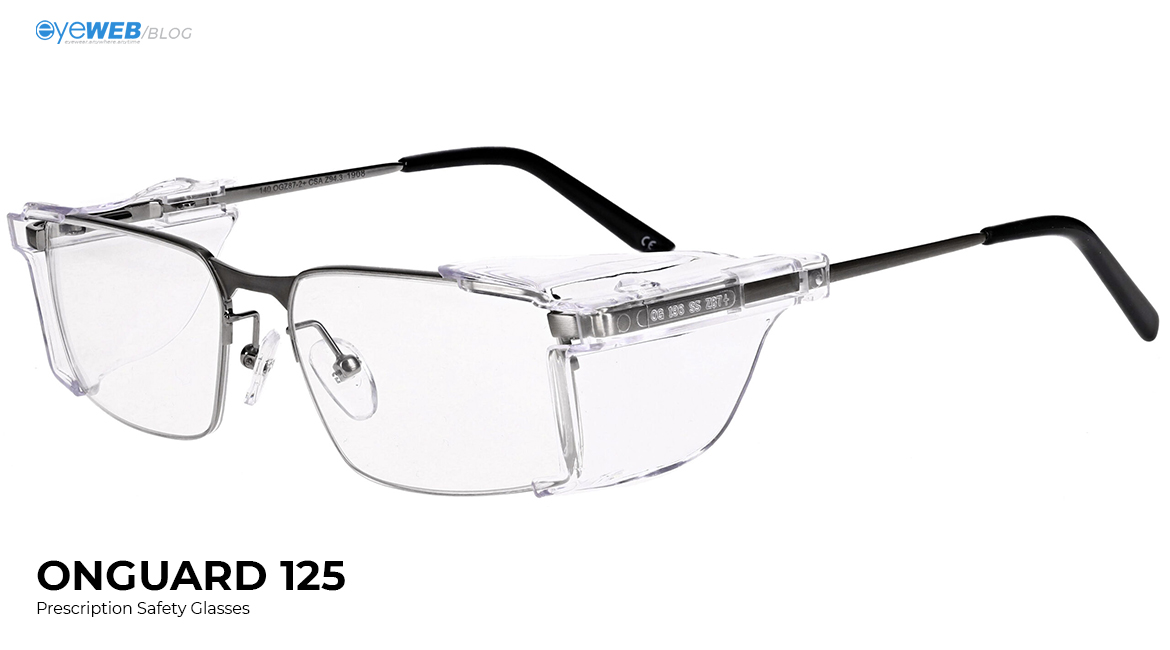 Shop ONGUARD 125 Safety Glasses
ONGUARD 110:
Onguard 110 is another solid choice for those people who love to wear designer frames. These safety readers are obtainable with upgrading features. If you desire safe eyewear wearing for an entire day, Onguard 110 is a breathtaking choice. Besides, their ANSI certification provides you with a solid reason to wear them for a whole day. Furthermore, they are an excellent choice for white-collar jobs employees because giving them a stylish look. So, get a chance to keep your eyes secure with a gorgeous look against impact work settings.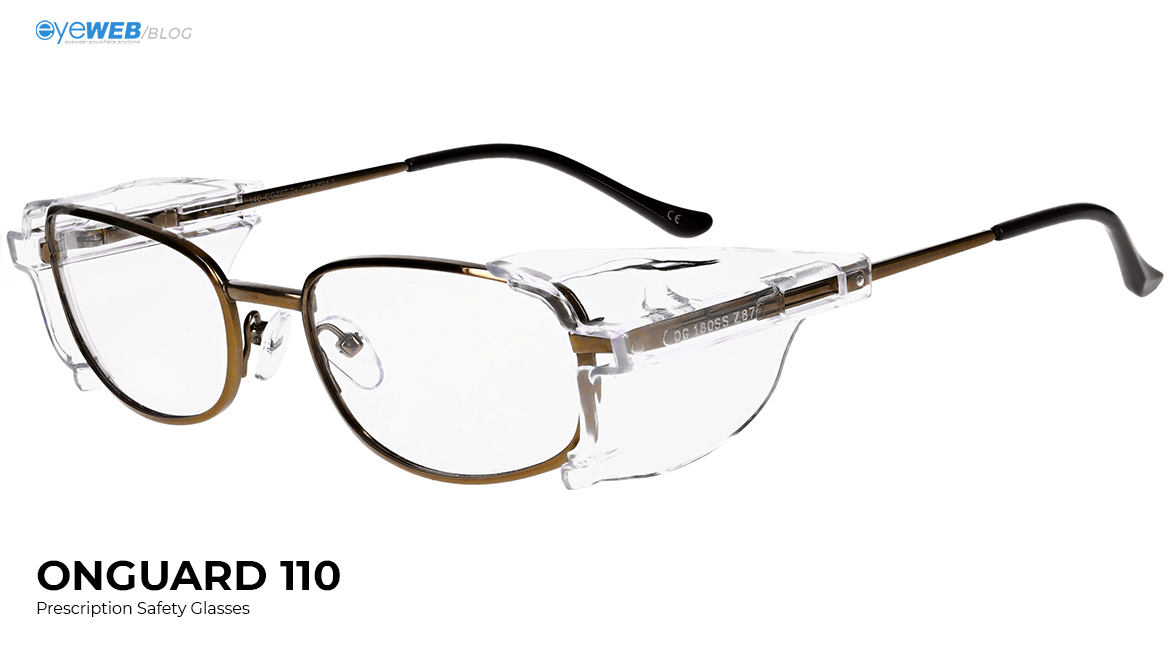 Shop ONGUARD 110 Safety Glasses
ONGUARD 078:
Onguard 078 safety glasses are another option that is the amalgamation of functionality and style. While picking out safety glasses with corrective lenses, go confidently with this option. Besides, you have an extensive range of lens options for enhancing the visual experience. But it could be more satisfactory to choose corrective lenses with top safety-rated frames.
So that you can use them for risky work settings. And you have a bizarre way to get quality eyeglasses for all work settings. But initial evaluation is necessary that practice by yourself or your employer. For example, you need to determine polycarbonate lenses and scratch-resistant coating to avoid lenses from unwanted scratching. Besides, some unexpected marks can get, and anti-scratch coating protects them for long years.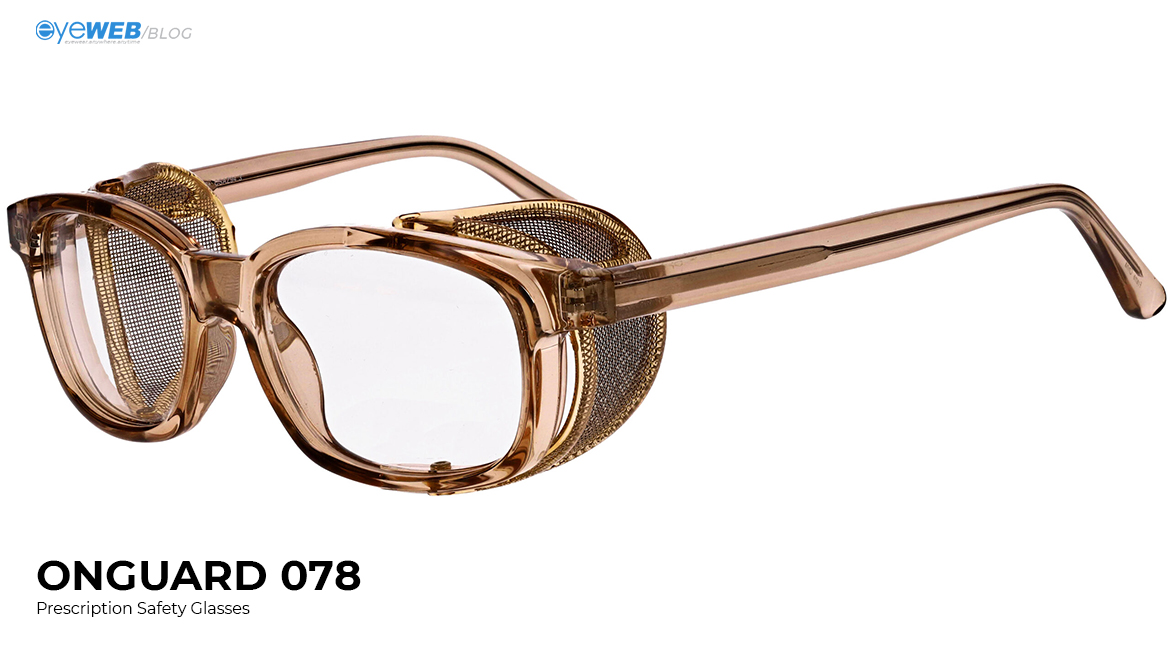 Shop ONGUARD 078 Safety Glasses
Onguard OG230S:
A magnificent piece of safety glasses Onguard OG230S is in a sporty wraparound style. Integrated side shields make them the favorite protection eyewear for players, and flexible temples provide more comfort due to their excellent grip. These rectangle stylish safety spectacles are ANSI Z87 approved. So, they can withstand impact hazards for adult face shape. Surprisingly, these designer frames are also accessible for most prescriptions.
A full-rim frame around safety lenses increases the durability and stability of these protective glasses. Manufacturing with acetate plastic makes them easier adjustable to any face shape. So, these are the most fashionable eyeglasses that can use for multifocal and progressive lenses. Its stunning colors like Navy, red, and black shades are ideal for a present to the dearest one because of their appealing features.
Due to impact safety features, they perfectly suit sports and industrial activities. Onguard safety spectacles have technological innovations like rimless frames, sun clips, and much more. Stay protective without compromising fashion and comfort. A one-year-long warranty is a suitable option for you if you practice the online shopping experience.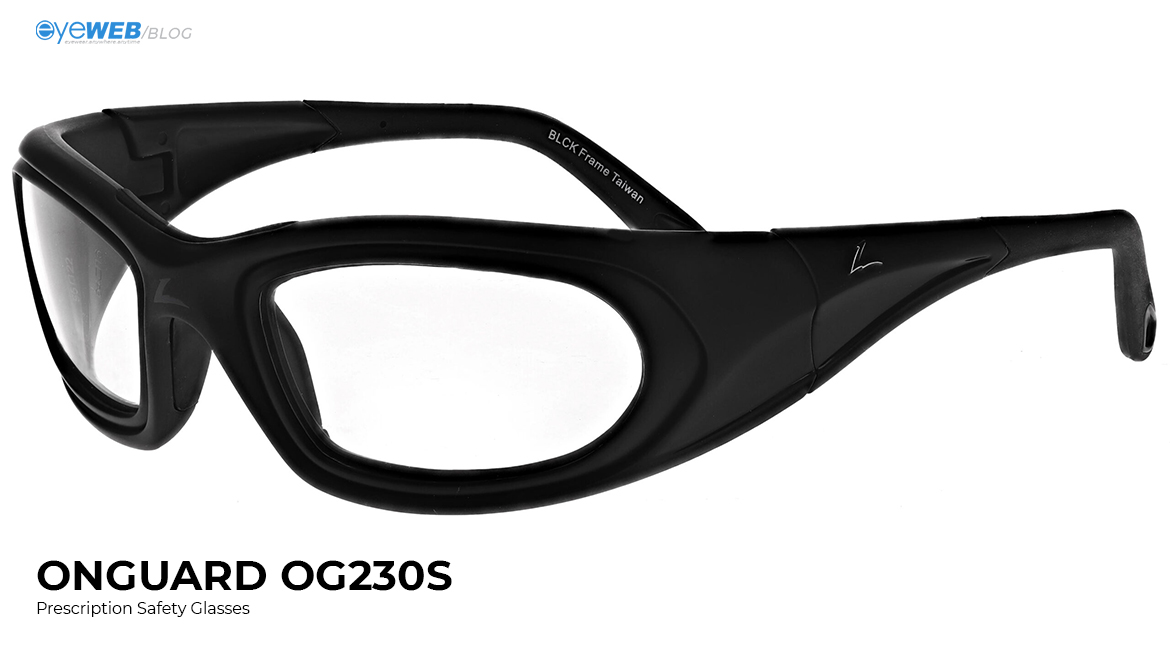 Shop Onguard OG230S Safety Glasses
Onguard OG255S:
The reason behind making them ideal for eyes protection is to firm stand against industrial hazards. These Onguard OG255S safety glasses have a wraparound shape, and their temple edge is expansive. Therefore, they provide additional safety to the entire eye area from grave incidents. The workers enjoy wearing these full-rim plastic safety frames as they give excellent grip from ear areas.
Besides, they provide superb visual clarity no matter what prescription your eyes have. In this regard, you wouldn't wish to remove them annoyingly because of the prescription issue. Get full-proof safety through these safety spectacles at your workplace. However, OnGurad safety glasses have a unisex style. Therefore, they are a paramount option to give a gift to the concerned.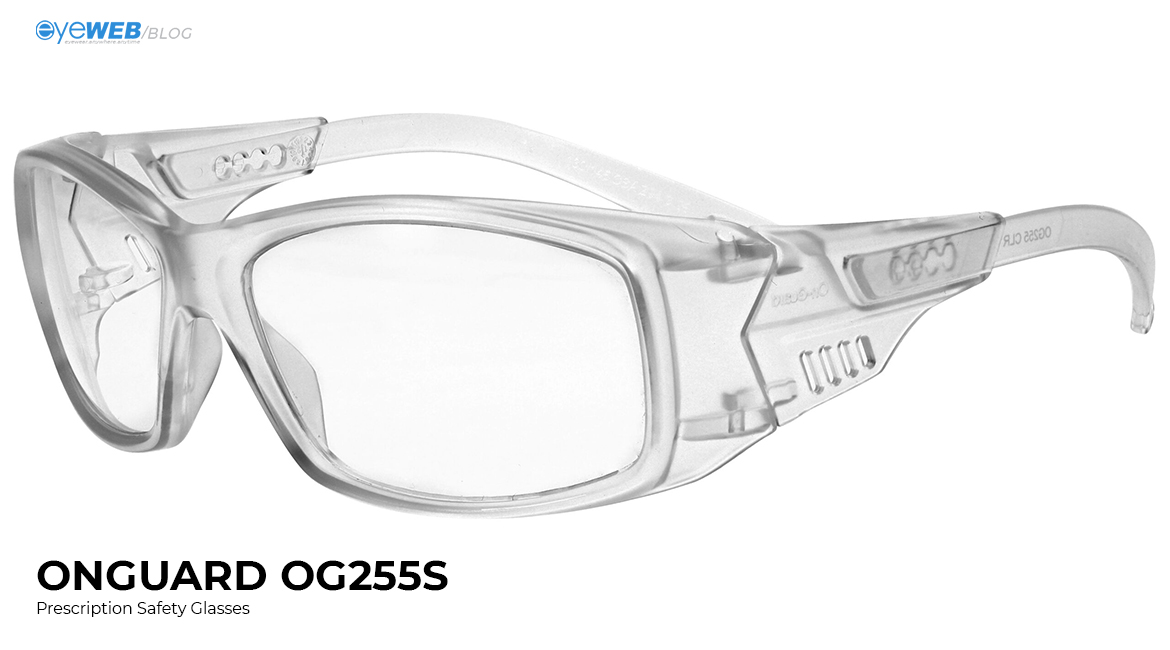 Shop Onguard OG255S Safety Glasses
ONGUARD 085:
Metal alloy Onguard 085 safety eyewear has a durable frame accessible with detachable side shields. The Onguard frame has two key colors with incredible features. However, Onguard has a long history in the field of the safety glasses business because of technological innovations. These safety glasses have seamless quality and fine details for prescription lenses.
Therefore, they are unmatched in functionality and style among other designer safety frames. A fashion-forward impact design represents the values of safety and style as per your job requirement. ANSI Z87.1 certification for frames and lenses meets complete OSHA requirements at impact workplaces. So, grab them today with a one-year warranty and enjoy extra optional features.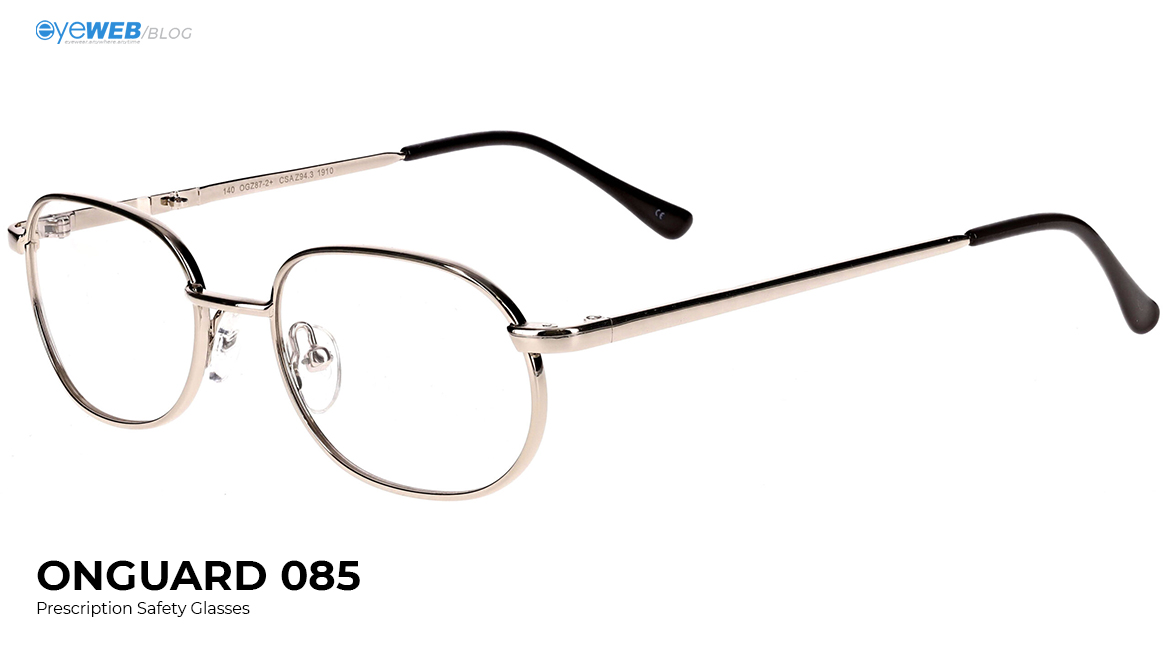 Shop ONGUARD 085 Safety Glasses
Summary:
Safety glasses came into existence to secure eyes when users work at risky places. Before buying protective specs, ensure for scratch resistance or anti-fog coating if needed. These features are necessary for regular use at worksites. Irrespective of different tasks, it has been observed that anti-scratch coating is the test of time for eyewear products to run for an extended period.
Besides, certain features are functional for many tasks. For example, polarized lenses are first-class instruments for outdoor light. Besides, full seal goggles offer supreme protection while operating woodworks. Doesn't matter about the sort of work you have, safety eyewear is an essential need. The compiled list of Onguard safety eyewear is the first-rate collection for impact protection.
Protective eyewear doesn't only deliver crisp vision, but it offers excellent safety against small sharp objects for avoiding unwanted accidents. Don't consider eye injuries are merely painful. But in some cases, you can lose vision permanently. Therefore, they have the chief role of wearing quality safety pairs while operating different indoor and outdoor assignments.
Wearing quality safety pairs is a vital accessory for those workers who work in the industrial environment. And the good news is protective spectacles have the same importance for the regular wearers with prescription lenses. Therefore, the above-compiled list of safety glasses will save time, and you can purchase them conveniently.
FAQs:
Are Tinted Safety Lenses Good for Eyes?
Dark-tinted lenses are potentially risky for individuals if used indoors. Their eyes would adopt darkness, and they will become sensitive. And lead to headaches due to bright light exposure.
What is the Ideal Tint for Low Light Settings?
Many people choose yellow color lenses, but they cannot provide good visual contrast in low-light settings. As an alternative, if you pick out light rose tint, it would offer better contrast.
When do Workers Need the Impact Eyes Protection?
Companies owners must give the best safety gear if their workers can get possible eye injuries while working at those hazardous workplaces. So, safety glasses are the only solution to defeat eye injuries.